Basic Skills Training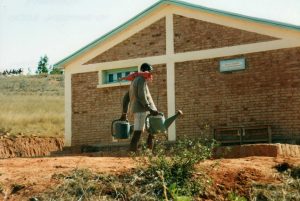 Even though over 50% of Madagascar's population is under the age of 25, and 50% of that number is under the age of 15, only a small percentage of Malagasy youth finish high school.
There are several reasons for this:
Madagascar's schools have not changed much in their pedagogical methods since colonial days.
The remoteness between the financial resources for schools and school locations.
The appropriateness of educational materials for life in Madagascar.
Therefore, since so many young people are without high school diplomas, PFM seeks to provide them with marketable skills.
---
Sewing Training Center
The Tanjona Youth Sewing Training Center is in the town of Amboditanana and holds 3, two-month training sessions each year. For each session 6 young people are given a way out of poverty through gaining a life-long skill.
Additional topics covered include:
AIDS awareness
The role women in community leadership
Moral guidance
Youth Training Center
The Youth Training Center is located in the 250,000-person town of Fianarantsoa in south-central Madagascar. The curriculum here focuses on teaching computer skills and English as a second language.
Additional topics covered include:
AIDS awareness
The role women in community leadership
Moral guidance