University Partnership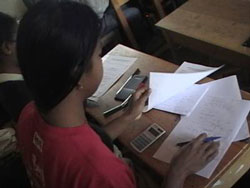 Keeping the brain trust inside Madagascar for building future Malagasy leadership.
For years, bright Malagasy students have been leaving Madagascar to study abroad.
Most of these students never return to live permanently in Madagascar.
Many of these students who stay overseas send financial assistance to their families in Madagascar, but their genius is not applied to the developmental needs of Madagascar.
---
HECMMA University
Graduates of HECMMA University (Hautes Etudes Chrétiennes de Management et de Mathématiques Appliquées) are entering Malagasy government and private sector leadership jobs to apply their training. HECMMA is producing students with bachelors and masters degrees in the following areas:
Business – Management
Business – Marketing
Telecommunications
Engineering (Civil/Electrical)
All of the professors at the university have accredited degrees (many from universities in North America and Europe) and have many years of experience teaching their major subjects.
PFM seeks to provide the following for HECMMA:
Scholastic equipment
Textbooks in English
Personnel to teach following:
–English as a Second Language
–Communication
Personnel to lead technical seminars in:
–Leadership
–Engineering
–Mathematics
–Business
–Marketing
–Management
–and other technical topics